Fall is a spectacular time of the year that represents beauty in transition.
Golden West Annual Meeting
Golden West Telecommunications Cooperative, Inc. held 68th Annual Meeting on September 26th. During the meeting, Golden West Cooperative members voted for one of the four candidates Gerry Sloat, Ryan Kjerstad, Judy Goldhammer and Tanner Handcock for the District II. As a result, Tanner Handcock was elected to the Board of Directors.
Members also voted on proposed changes to the Articles of Incorporation and Bylaws. The proposed amendments to both Articles of Incorporation and Bylaws failed.
Many outstanding door prizes were awarded by random drawing prior to the election of directors results.
About Golden West
Golden West Telecommunications Cooperative stretches from the western border of South Dakota to the state's eastern edge, and it covers so much of what makes South Dakota life unique and special. Golden West serves its members since 1916. The purpose of the Co-op is to provide quality services to the members and give back to the communities through the scholarships, economic development awards and donations year-round.
Golden West Cooperative is one of the partners of Economic Development. The Co-op played an important role in Housing Development in Wall providing financial assistance to the Wall Economic Development Corporation.
We are proud to have Golden West as member of Economic Development Corporation.
Wheelin' to Wall
Charon Geigle organized and hosted fourth annual Wheelin' to Wall event, the ride through the beautiful Badlands National Park on Saturday, September 26th.
Wheelin' to Wall hosted 110 participants who chose one of the four riding distances. Participants came from seven different states such as ND, SD, CO, IN, IA, MA and NE.
Besides the scenic ride through the Badlands Wheelin' to Wall welcomes folks into our community where they explore our local amenities, stay at the local hotels, enjoy a variety of restaurants and shopping.
Join Our Board
Wall Economic Development Corporation members will elect one director to its Board of Directors at the organizations 5th Annual Meeting at 7:00 pm at the Wall Community Center on November 18th in Wall, SD. The incumbent director, Kalie Kjerstad, has indicated her intent to seek re-election to the board. Candidates must be members of WEDC and qualify according to the Bylaws. Candidates must submit a petition with 5 signatures and biography. If you are interested in running for a Board Position, please contact Liliya Stone at (605) 279-2658 walledd@gwtc.net
All petitions and biographies must be received in the WEDC office by Tuesday, October 27th, 2020.
WEDC Annual Meeting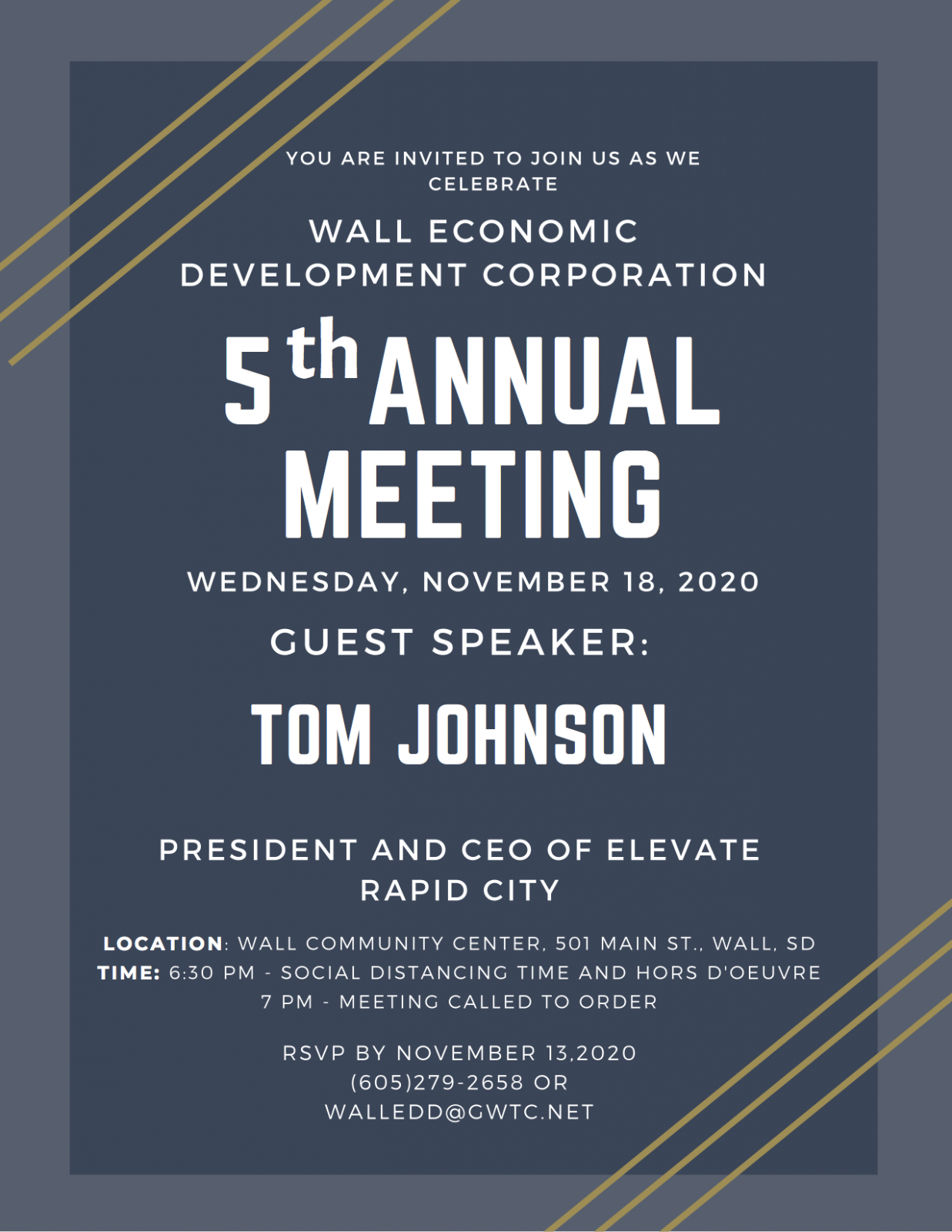 Relocation Program
WEDC Membership
Wall Economic Development Corporation has been inviting local businesses and individuals to become investor/member of WEDC to help our community to grow.
The goal of Wall Economic Development is to improve the quality of life of residents in Wall.
If you are interested to become a WEDC member, please contact Liliya Stone at 605-279-2658 or walledd@gwtc.net
Thank you to our members for believing in our organization and supporting us.
Sincerely, Liliya Stone
Executive Director of WEDC
(605)279-2658